Want to feel that country air in your hair and take in some breathtaking views?
1. Enniscorthy Riverside Trail
County Wexford's most popular walking trail is a gentle 3km (6 km round trip) walk along the banks of the River Slaney, south of Enniscorthy town. The trail starts at the Riverside Park Hotel, crosses a footbridge and follows a wild riverbank meadow. It offers views up and down the River Slaney valley as well as Brownswood House, once home of the famous architect and furniture designer Eileen Gray, and St. Senan's Hospital, one of the most impressive 19th-century institutional buildings in Ireland.
---
2. Oulart Hill Hub
Oulart Village trailhead: 52.505, -6.388
Unyoke/Trading Post trailhead: 52.454, -6.401
Just a few miles from Enniscorthy are three walks centred on Oulart Hill, one of the most historic and scenic locations in Ireland. View the vast panoramas which explain the hill's strategic military significance and why it was the site of the most influential battle of 1798. Ramble into the hilltop monument – Tulach a' tSolais – which interprets the 1790s in the particular context of the European Enlightenment. One of the trails – the Unyoke Trail, through undulating farmland, includes 3km of the actual untouched medieval Wexford-Dublin coach road – a rare experience.
---
3. Bree Hill
Bree Hill, a pleasant 15-minute drive from Enniscorthy, features three looped walks, individually waymarked, which start at the trailhead at the car park in the village of Bree. These routes provide 23 km of mixed forest trails, offering peace and tranquillity and beautiful views of the surrounding countryside.
---
4. Borodale
Just 5km outside Enniscorthy, lies the beautiful Borodale – a steep-sided river valley with a forested walk and a river bank platform. It is also home to a 12th century Norman motte (a raised earthen fort surrounded by a defensive ditch) which was one of the first in Ireland.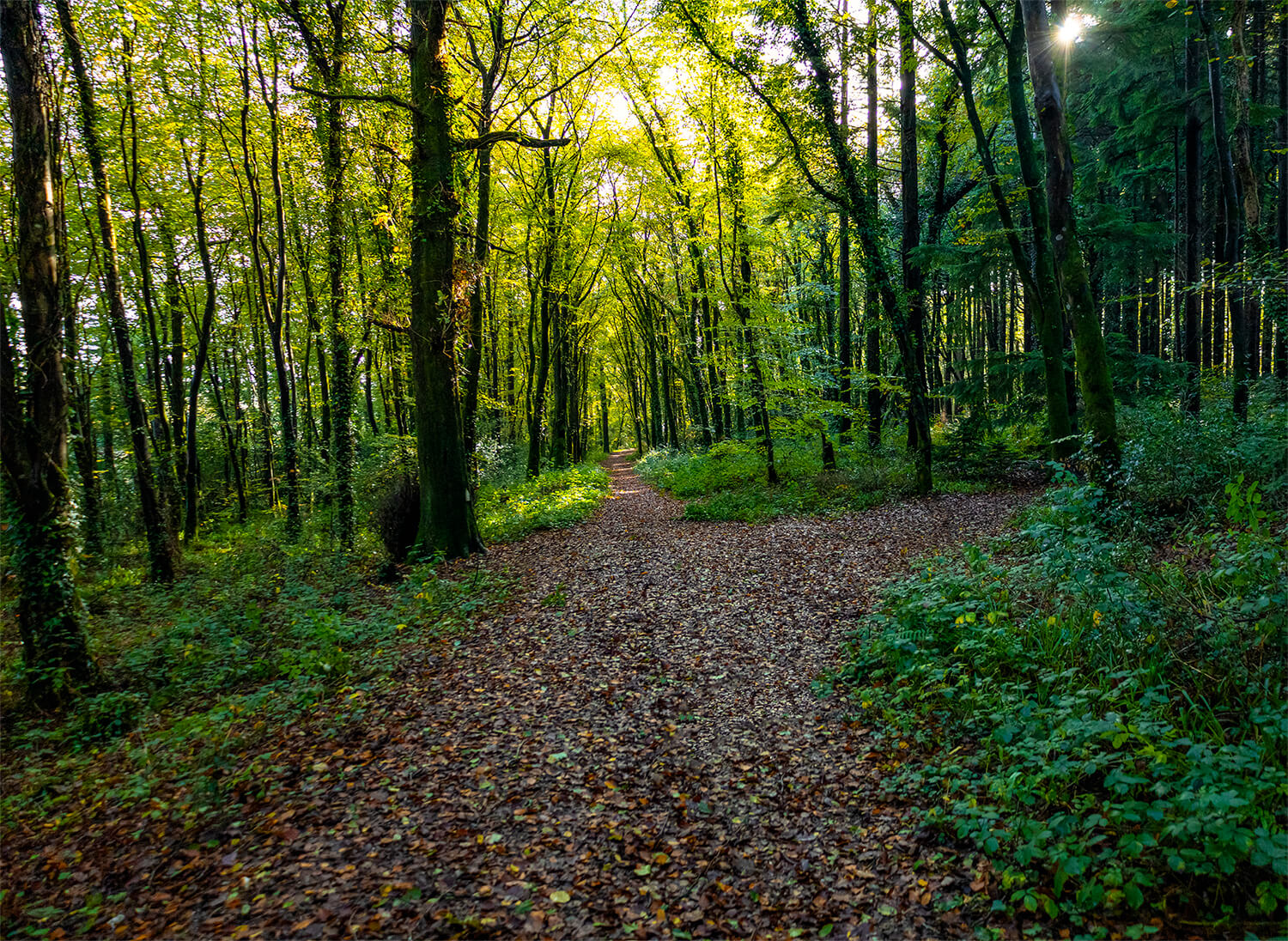 ---
5. Ringwood
The Ringwood is a mixed woodland forest, 3 km outside Enniscorthy, which follows the picturesque River Boro as it meets the River Slaney. It is understood to be a centuries-old trail, potentially linking the nearby St. John's Abbey – founded in 1231 – to its hinterland. To the west lies Kilcarbry, founded by Welsh pilgrim Cairbre in the 5th century, and which later became a flour mill in the 17th century. Also nearby is the Carrig Graveyard, the final resting spot for many of the 1798 Rebellion.